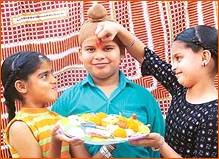 Legends of Bhaidooj are as interesting as the festival itself. Most popular Bhaidooj legends are related to ancient Hindu mythology and are extremely fascinating. It is remarkable to note that all legends related to Bhai Dooj narrates the importance of sanctity of relationship shared between a brother and her sister and portray the beauty of their affectionate bond.
Legend of Yamraj
Bhaidooj gets its name 'Yama Dwiteeya' from the legend of Yamraj. Story goes that once Yamraj, the God of death visited his twin-sister Yami or Yamuna on 'Dooj Day'. Yami received her brother very warmly, applied tilak on his forehead and gave him a sumptuous meal. Yama was so happy that he declared that brothers who receive teeka from their sisters on a 'Dooj day' would never be given a place in hell.
Legend of Lord Krishna
Legend of Lord Krishna is also associated with festival of Bhaidooj. It says that after slaying the demon Narakasura, Krishna visited his sister Subhadra who gave him a warm welcome with flowers and sweets. Subhadra also lit lamps and applied tilak (a holy protective spot) on Krishna's forehead. Since then custom of applying tika became immensely popular and over the years it assumed the shape of a
bhai tikka
festival.
Legend of Lord Mahavira
Legend of Mahavira related to Bhai Dooj states that after Lord Mahavira attained Nirvana his brother King Nandivardhan became extremely distressed due to Lord's absence. Nandivardhan was comforted by his affectionate sister, Sudarshana. From that time onwards women came to be revered during Bhaidooj.