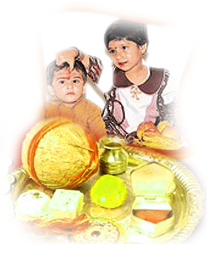 Bhaidooj is an awesome Indian festival that celebrates the beauty of the affectionate relationship shared between a brother and a sister. The festival of Bhai Dooj is celebrated on the fifth day of the Diwali festival and as the word 'Dooj' suggests, Bhai Dooj falls on the second day after the new moon. This is the second day after Diwali celebrations.
On Bhaidooj sister perform arti of their brothers, apply a red teeka on the their forehead and give them a sweet to eat. This ritual of Bhai Teeka is being continued since time immemorial and is symbolic of sisters prayers for her brothers long and prosperous life. Brothers in their turn bless their sisters for a healthy and happy life and present them Bhaidooj Gift or some cash. Sisters too don't miss the opportunity to indulge their loving brothers with sweets and Bhaidooj Return Gifts.
In traditional Hindu families, Bhai Dooj holds a lot of significance as it strengthens the relationship between siblings and helps to keep the families united in the bond of love and care. Bhaidooj is also a happy occasion as it calls for family reunion. Married sisters look forward to Bhai Dooj as a time to visit their home and share happy times with siblings. Festive foods and lot of merriment mark the festival of Bhai Dooj. Sister unable to meet brothers on Bhaidooj send teeka and their warm feelings by post or greeting card. Bhai Dooj E cards too are in vogue in present times.